We live in a very tough world. Competition is everywhere and when it comes to survival or growing, the morality rules seems very flexible. So, except being a high profile multinational with a lot to lose if you are doing weird stuff, all the rest are prone to do any sorts of (almost) legal action to help the survival.
The online marketing offers a LOT of examples where a company can have an edge using these "lateral thinking" tools:
The classic spam.
Yes, I know, spam is bad, everybody hates spam, spam is a no-no…. But, the truth is… SPAM SALES! Why on earth do you think zillions of entities are keep sending spam if it would not work? For fun? No, they send spam because, statistically speaking, some of the recipients are buying. Either is a Nigerian scam, or Ray Ban sun glasses, or trips to Turkey at low cost, or whatever. Send to 1 million people a message and if 1:10,000 are buying something, that means that you have 100 sales!
Trolling
Nielsen shows that 68% of buyers make up their mind if they read other people opinion on the subject online (on forums, blogs, etc). So, if you, as a company, are flooding the internet from a specific market with hundreds/thousands of neutral-positive reviews for a specific brand, that look objective, that will influence the purchase decision quite a bit, don't you think? 🙂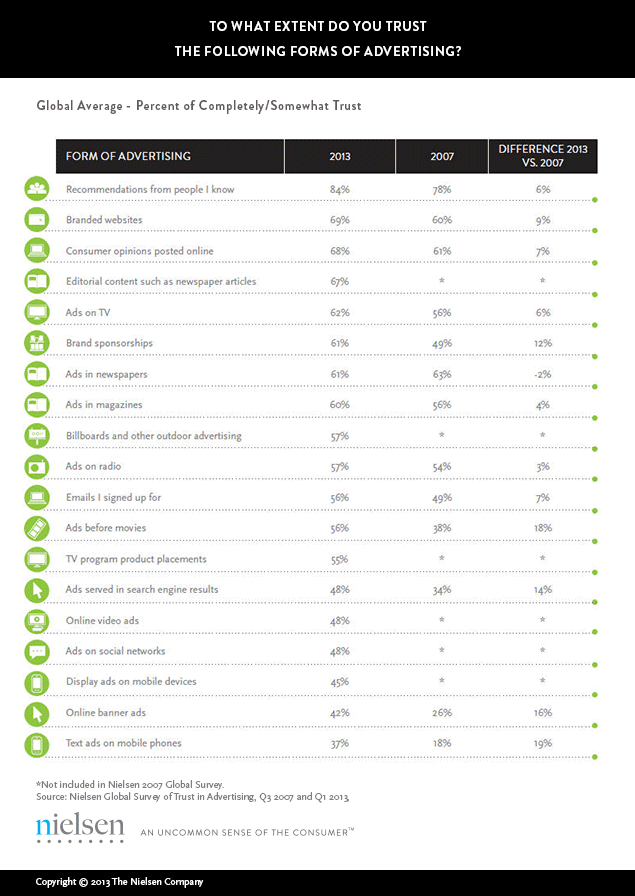 Source: http://www.nielsen.com/us/en/newswire/2013/under-the-influence-consumer-trust-in-advertising.html
Tracking
Actually, everybody does tracking. Google, Yahoo, Overture, Facebook, up to the tiny sites. They all gather declared information, but also actual behaviors or localization data. This huge information pool can be used to influence your behavior.
Spyware, malware, and stuff
Click here to find out how to get a free iPhone! 
Humans have simple minds, easy to predict. And, if they are easily to predict, they can be also determined to do specific actions, that will bring you money. 🙂 Installing a software, willingly or not, will make you a perfect target/tool. 🙂
Manipulations
Consider these statements:
"God does not exist."
"Stupid people should not be entitled to vote."
"Immigrants are to blame."
"Abortion is good"
"Republicans are idiots"
People have opinions. Saying something people already believe and they are really passionate about it  will allow you to create a powerful community and use its power. Creating strong communities is VERY lucrative. You have hundreds or thousands of brand ambassadors. You've got a lot of link love from their sites/blogs/facebook pages. Your disciples acts as living testimonials. Look at forums where sects are building (and then they are committing suicide to wait for aliens), or radical groups are finding followers. Web allows infinite solutions to build up a brand.
Many, many others
(contact me if you are interested in a philosophical debate :))
Anyway, the question is how far are you willing to go and if it's worth it, on all levels… This is a personal dilemma for each business owner. Because these tools are actually working 🙂
Tough decision, right? 🙂